WHY DATA LAND?
– Data Land Inc, being the brainchild of the owners of DDT Konstract, Inc. will benefit from DDTKI's construction expertise resulting to better value for money for the investors.
– Data Land, Inc. is enforced with strong financial backing from institutions that assure the completion of the projects.
– Data Land, Inc. projects revolve around the "Three A's", namely: Accessibility, Affordability, and Aesthetics.
ACCESSIBILITY:
Location of DLI projects are in high-growth areas with 24-hour local transportation available and directly accessible to key districts.
AFFORDABILITY:
The price point and investment terms of DLI strive to be the lightest on the budget.
AESTHETICS:
DLI ensures that the delivered project is of better quality not only in craftsmanship but in aesthetic appeal believing that an affordable property need not look cheap.
– Data Land, Inc. is committed to providing "QUALITY BEYOND THE BASICS".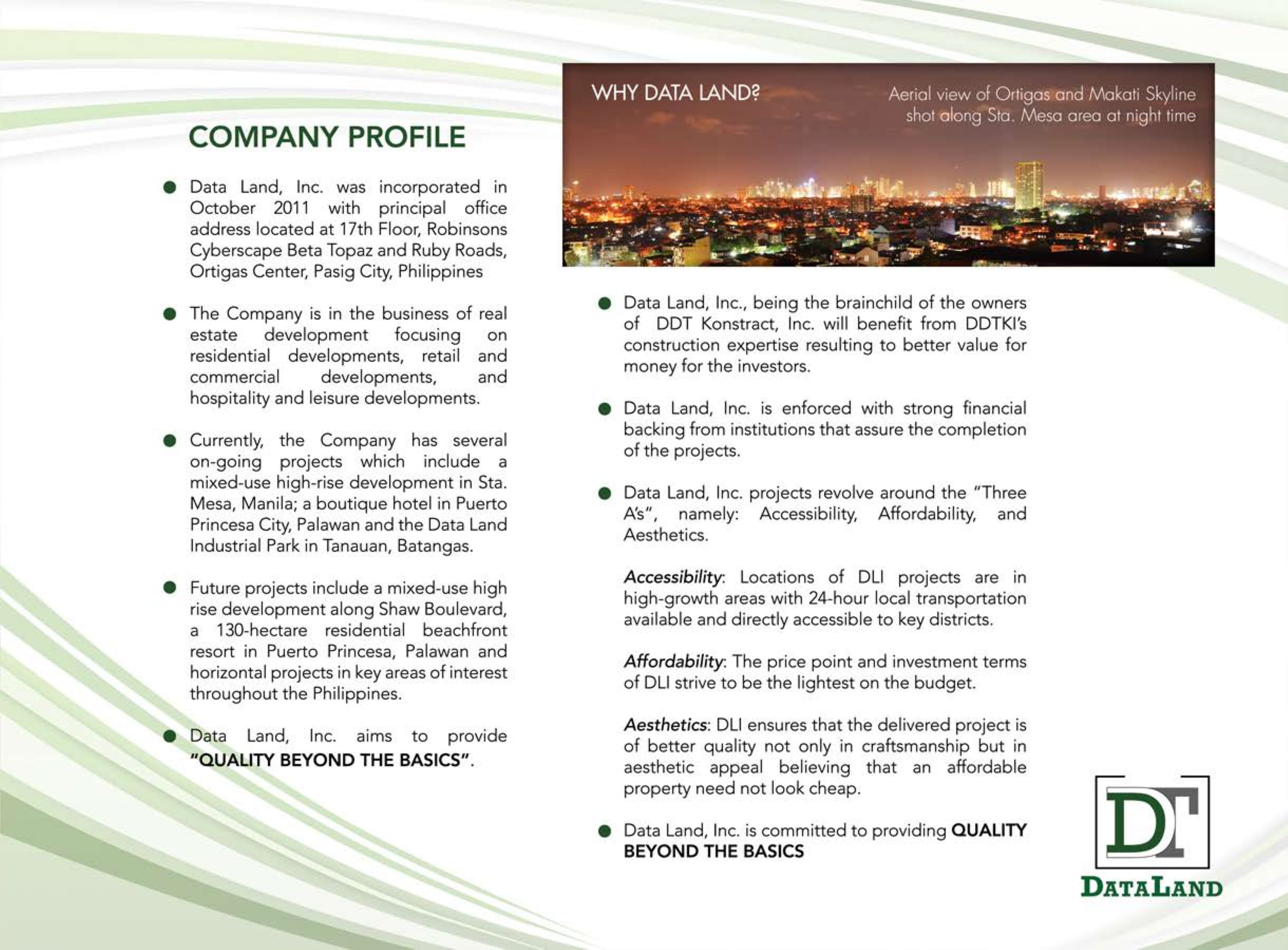 These are all the real estate projects of DDT Konstract, Inc., the mother company of DataLand. DataLand is for their own residential projects, DDTKI is the Top 4 Contractor in the Philippines and with a Quadruple A rating. There are only a few contractor companies in our country that has a Quadruple A rating.
Among those real estate projects that they had built are Robinsons Cyberscape Beta Bldg, Robinsons Trion Towers in BGC, BDO Ortigas Towers, Globe Telecom bldg, SMDC Light Residences, Metro Gaisano Mall, Cebu Temple, Lancaster Hotel, SM Center Las Pinas, SM City Consolacion, Waltermart North Edsa, Ayala Centro Mall and Hotel, Horions 101, Lexmark Plaza bldgs, SMDC Shell Residences, World Health Organization bldg, Ayala Underpass, SM San Pablo, SM Supercenter Muntinlupa, SM Supercenter Molino, Taal Vista Hotel, and even a bridge in cavite and the Santisima Trinidad Church. Actually, there's too many to mention.

For your inquiries, tripping schedules or unit reservations, contact us by providing the details on the inquiry box located at the right side.  You may also reach us via mobile or email:
Ian Noblejas
Sales Manager
(+63)916.336.6941 / (+63)922.645.7873
ian.noblejas@gmail.com