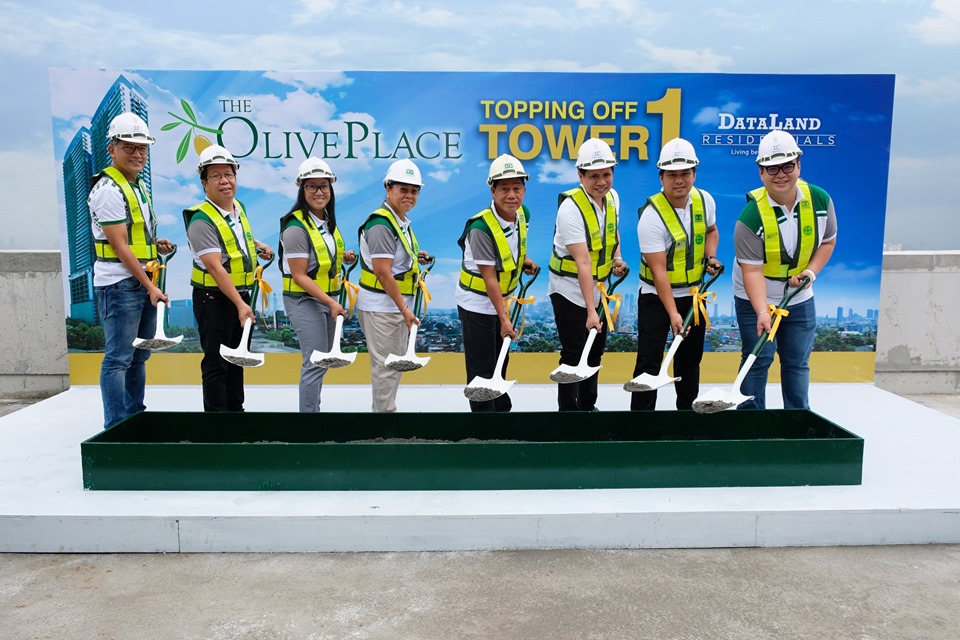 DataLand Tops Off The Olive Place Shaw
DATALAND TOPS OFF THE OLIVE PLACE SHAW
DataLand achieved another milestone with the topping off ceremony of tower one of The Olive Place – its standout 2-tower 50-storey residential development along bustling Shaw Boulevard in Mandaluyong City.
Strategically located, The Olive Place has direct access to transport hubs, schools, commercial centers, medical institutions and places of worship and is minutes away from central business districts, encapsulating the ideals of comfortable living right in the heart of the city.
Present during the ceremonies were (from left): Rouen Abel Raz, Vice President for Sales and Marketing of DataLand; Rosaleo Montenegro, Vice Chairman of DataLand; Engr. Andrea Tamayo-Ulep, President of DataLand; Engr. Cynthia Tamayo, Vice President of DDT Konstract, Inc. (DDTKI); Engr. Danilo D. Tamayo, Chairman of the DDT Group of Companies; Gil Somblingo, Chief Finance Officer of DDT Konstract, Inc.; Engr. Edimar Ulep, Chief Operating Officer and General Manager of Whiteport, Inc. and Dennis Hung, Business Development Project Head of The Olive Place.